A while back, I was chauffeuring my dad around as he was recovering from eye surgery. On one of those trips, I took him to his follow-up appointment with the surgeon, and as I sat in the waiting room, I heard an interesting conversation.
Most of the people in the waiting room were older, and they were talking about the oncoming generation (aka my generation and young people a little younger than myself). Let's just say, they weren't talking very favorably of them. Some of the main things I remember them talking about were how self-centered they were and how most of them weren't willing to work. I felt rather awkward, and couldn't help wondering if they thought I fit into that category.
Fast-forward to this morning when I was sitting in my hammock swing in my flower garden, having my devotions. I read 1 Timothy 4:12, and the Lord laid it on my heart to write a blogpost about that verse. He also brought to mind the conversation in the waiting room.
So what does 1 Timothy 4:12 say? "Let no man despise thy youth; but be thou an example of the believers, in word, in conversation, in charity, in spirit, in faith, in purity."
What Does 1 Timothy 4:12 Mean for Us?
Christian young people, this verse is for us. We are to live in such a way that we do not discredit the Lord's name because we are young. We are to be examples of what it means to be a Christian. And the last part of that verse tells how we are to be examples. We are to be examples in the words we say, in our attitudes, in how we show love to others, in how we react in difficult situations, and in how we live our lives.
Let's face it: there's a lot of truth in what those people in the waiting room were saying about young people today. So the question is, are we adding to that number of young people who are self-centered and only care about having fun?
As Christian young people, we are called to be different. We are called to be examples of what it means to be a Christian. When Jesus was here on earth, He stood out from the rest of the world. And we are to follow His example.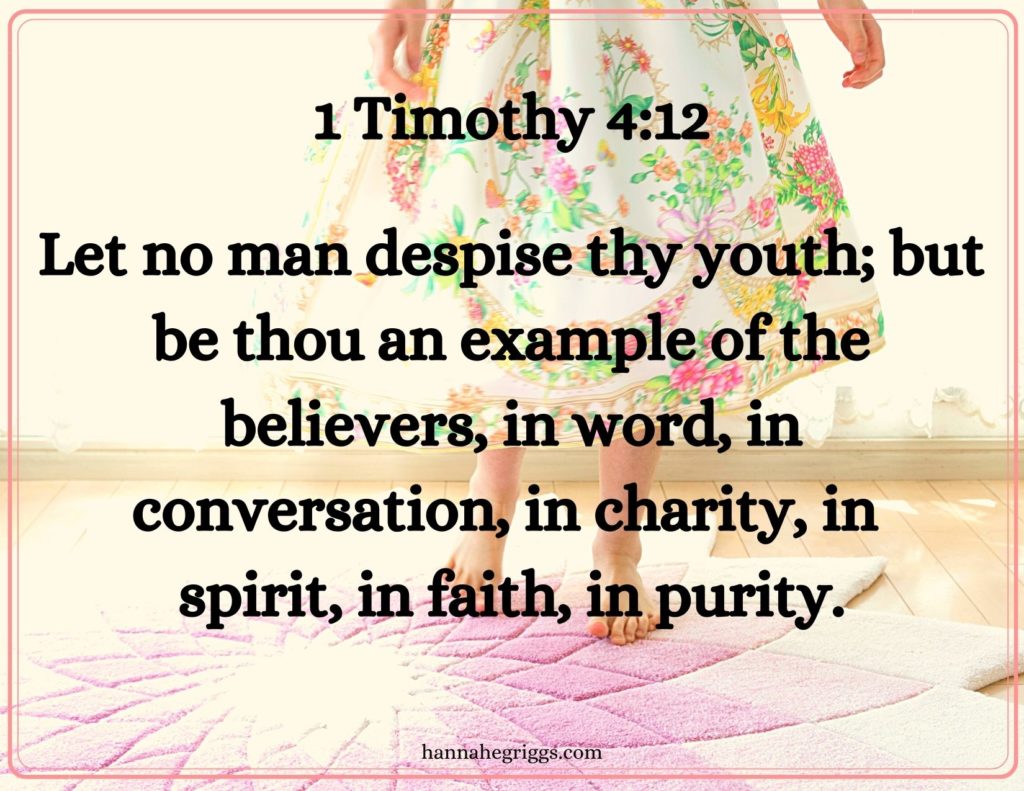 At some time or other, we all face the struggle with wanting to blend in rather than stand out. But just remember, that is not our calling as Christians. Our calling is to be in the world but not of it.
Now, you might be wondering, all this talk about being examples and being different, does that mean we can't have any fun and always need to be serious and reading our Bibles?
The answer is no! There is nothing wrong with having fun sometimes, as long as it is the right kind of fun. It's okay to laugh and have a good time. As it says in 1 Timothy 6:17 "God, who giveth us richly all things to enjoy." We are allowed to enjoy the blessings God has given us, as long as they do not take our focus off of Him.
But while we are enjoying life, we need to be sure we are doing it in a way that is honoring God and that we are still being examples all the while.
Conclusion:
Here are some final questions for you to ask yourselves: How can I be an example to other Christians? How can I be an example to the unsaved around me? What are the areas where Jesus is not in control, that I need to surrender to Him, so that I can be an example?
I hope this post was an encouragement to you of why we as Christian young people are called to be different.